Calling all Christmas Shoppers!
Sorry. The auction has been put on hold. We're working on an alternate plan.

 
All customers who made purchases from October 1-December 24 are qualified to attend and participate in the 2022 Live Customer Appreciation Auction in our stores where you'll bid against others for a ton of FREE STUFF! Auctions begin at 6 pm sharp. Don't be late!
See Auction FAQ's at the bottom...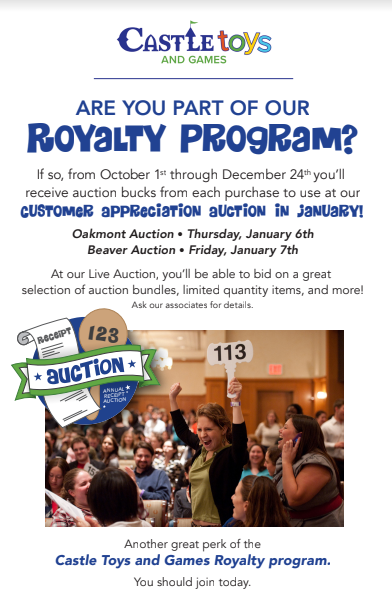 We were unable to hold this Auction last year so we have even more free stuff this year then we normally would. Throughout the year at Castle Toys we receive perfectly good items which have damaged boxes or for some other reason don't make it to the sales floor. And since we started doing this auction several years ago, some of our reps also hand over things to add to the Auction too. 
Auction Frequently Asked Questions:
Q. What does it cost to attend? 
A. It's free and there is no cost to anything that night. You'll bid using free vouchers equal to your purchases during the past Christmas season. Everything you win is free.
Q. How do I know if I qualify?
A. Two ways. If you've received either an email or a text message inviting you to the Auction, you're in. Otherwise, any purchases between Oct. 1st and Dec 24th, 2021 and you're qualified!
Q. Do I need to bring receipts as proof of my purchases?
A. No. We always ask for your name at the counter when you make a purchase so your purchases are already logged in our Point-of-Sale system. 
Q. What if I didn't provide my name when I checked out? I'm not on your list.
A. Then you'll need to bring receipts.
Q. Can my kids attend? 
A. Yes, but it may not be a great idea. You'll want to be able to pay attention during the live auction and bid when interesting items are "on the block". Also, kids can get pretty put-out when they don't win something they're hoping for. 
Q. How much will things go for?
A. We never know until the bidding starts. Some things or groups of things will go for very little. Others very high. It's a live auction so really, it's up to you
Q. What kind of things will be auctioned off?
A. You'll see things currently on our shelves as well as things we used to sell and things we've never offered. 
Q. Will I be able to preview the items before the sale?
A. Yes. We hope to have the auction bundles on display by 3:00 on the day of the auction with numbers so you can plan how and when to bid. 
Other questions? Please call the store.